"If it scares you, do it you never know if it was meant to make you shine"

KUDABO VICTORY
---
I hated water especially a large body of water; a flowing river sends chills down my spine whenever I am beside it.
I remember the time I fainted by the riverside when I saw a crab and my younger brother laughed his lungs out at the scared me. With my body sprawled on the riverbed sand, I huddled myself closely panting heavily.
"Will you keep being scared?" My father asked standing akimbo by my side with his gaze fixed at the ocean

"Whatever" I carelessly dismissed

"You know, I hated being a father also"

"This has nothing to do with that, dad"

"It does darling, come here," he said stretching out his hand to me with a kind smile on his face.

He held my hand swinging our joined hands into the air as we walked in sync

"Your mother knew how I had freaked out when I discovered she was pregnant with you; I wasn't ready for you, and for months I stayed away from her. We didn't talk"

My brother was happily dancing in the water, my father bent down to meet my gaze

"But I never knew what I was missing when I stayed away from you because I was scared; your little troubling in her belly and listening to your heart beating slowly in her; I never understood"

"What did you do dad?"

He paused, held my hand and smiled "I did nothing"

"Really? " I asked surprised though disappointed

He sensed the disappointment in my voice

"Darling, I was scared but you know-"

"What?"

"When you were born, I fell instantly in love with you like I ever did to myself, I regretted not been there while you were in your mother's belly; I vowed then to make it up to you" he kissed my forehead afterward

"I never made the same mistake with your brother, I had learned to face my fear and cherish the moments"

"I hate water"

"But, dear; water is beautiful. .isn't it? Look at it" he turned me to look at the blue sea.

"It is, but it can kill" I confessed

"It won't if you learn to master it. Who knows you could be a swimmer?"

I chuckled at his imagination "I can't"

"You can; if you learn to face your fear. Perhaps what scares you might make you shine darling"

"I don't know"
---
Readers, what are you afraid of?
Let's face it, perhaps you are meant to shine in your fear.
The saying is never too old: FACE YOUR FEAR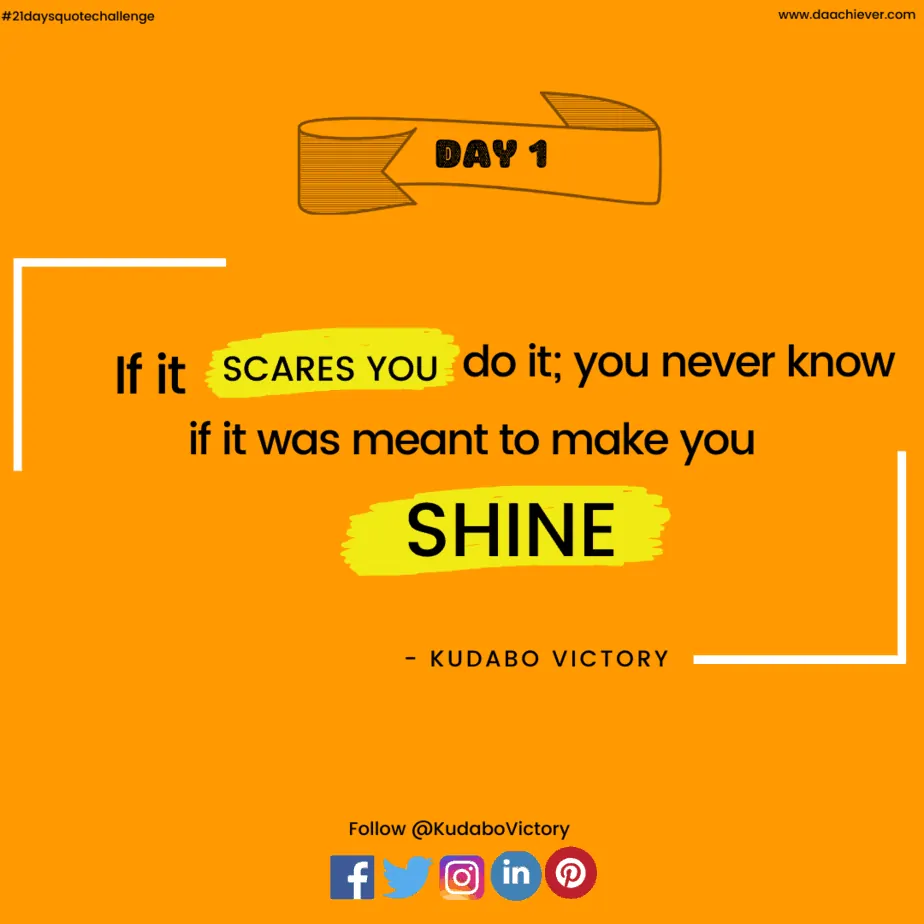 Join our mailing list below for up to date delivery of our quotes as they drop in on the website:
[jetpack_subscription_form show_only_email_and_button="true" custom_background_button_color="undefined" custom_text_button_color="undefined" submit_button_text="Subscribe" submit_button_classes="wp-block-button__link has-background has-vivid-purple-background-color" show_subscribers_total="false" ]