We have a lawyer joining us on the second episode of the Christian Author Interview on Daachiever Inc. We had a brief discussion with her; asking her questions about her books, and how she has been able to make a name for herself through God in the creative world. Read and enjoy the interview below.
Daachiever Inc: Hello, can we meet you? Tell us about yourself, your passions, goals, and walk with God?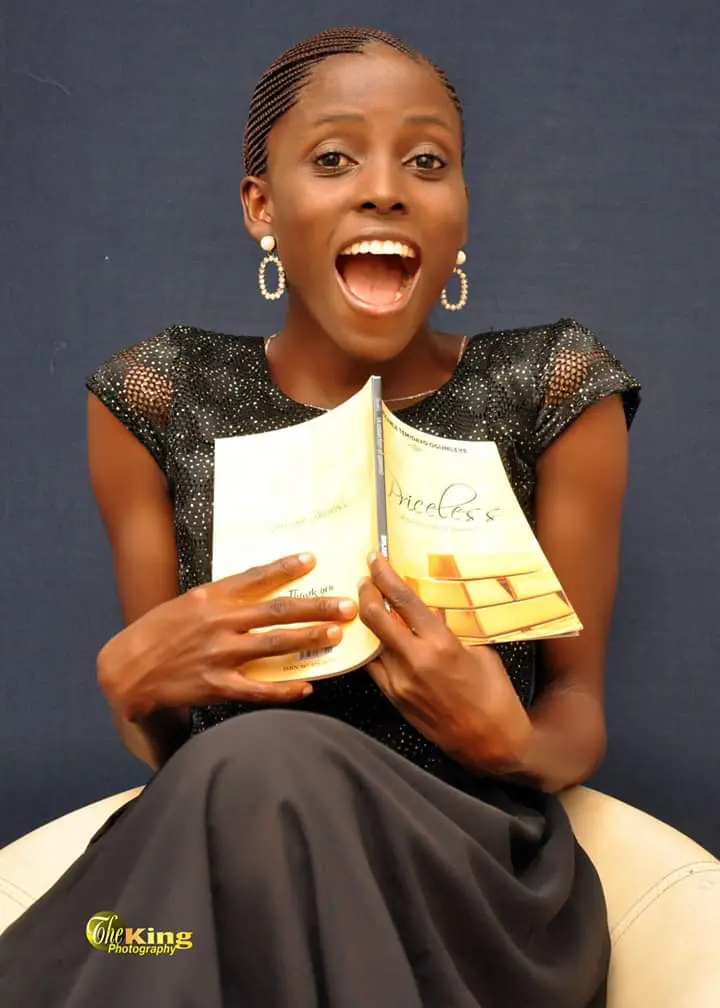 Thanks for the opportunity. I am Bolanle Temidayo Ogunleye, a lawyer, an author, and a blogger. I am a proud daughter of The Most High (smiles). I am passionate about living for God and seeing others do the same.
Daachiever Inc: How did you feel when you published your first book, Love beyond words?
Temidayo: That feeling is beyond words. I felt fulfilled
Daachiever Inc: Can you take us down the road of self-publishing? How was it? Was it difficult? And what is your advice to aspiring authors?
Temidayo: Self-publishing can be difficult if you don't have the right knowledge. Even when you know what to do, you have to 'work'. Publishing my books was tasking. I learned to trust God in the process. Sometimes, I just feel like stopping altogether when I think of the stress but the goal I have in mind won't let me. As an aspiring author, don't give up on your book(s)?
Temidayo: I would like to say your book is your baby, you don't throw out a month-old baby because he can't walk, do you? So, don't give up. It will be tasking but give it your best. You need an accountability partner too, someone who can inspire and encourage you till the book is birthed. For me, it was a friend, Adekunle P_pen. Getting his suggestions and ideas really helped a lot. Oh, let me add this (smiles) if you are a Christian writer like me, don't joke with trusting God while you write. There were times I had to pause to pray in the spirit while writing my two books.
Daachiever Inc: Why Christian poems? Can you give a reason?
Temidayo: Christian poems. I love poems. My literature teacher did a great job, his teachings made me love poetry but I write Christian poems majorly because I get inspired to, and also, I prefer poetry to other genres.
Daachiever Inc: How did you handle discouragement, poor engagement from people, and the likes on this journey?
Temidayo: Discouragement is a certainty. I have been discouraged many times. In fact, there was a time I stopped writing for a while because I was discouraged but no matter how discouraged I get, I get renewed strength to continue each time I talk to God about it. (laughs) I pray about it. Prayer does the magic.
As for poor engagements, sometimes, I try to look beyond the likes and engagement. I set a schedule to post my poems and I do that regardless of the engagement and over time, there has been a difference.
As a writer, poor engagement may be due to algorithms. Study the time that works for you and post at that time, except you have a leading to do otherwise. That a post has low engagement doesn't mean people are not getting blessed by it.
Also, bear in mind that you are good enough. Of course, that doesn't mean you should be complacent but take that step, share what you have written while you keep getting better.
Daachiever Inc: What is the happiest moment for you as a writer and when did you start writing?
Temidayo: I have had a lot of happy moments as a writer but the moment I held my own book for the first time was a unique moment for me. I was more than happy. I don't think there is any word that can qualify that.
Daachiever Inc: Do you have authors you look up to?
Temidayo: Yes, The likes of Francine Rivers, Karen Kingsbury, Lizzy Oyebola Yakubu, and Linda Ellis.
Daachiever Inc: How did you get inspiration for your books? You write uniquely, how did you do this?
Temidayo: Holy Spirit is my main source. Or how do I explain writing without knowing what I am writing at first? Inspiration comes like a flow and each time I yield to it, something beautiful comes out.
One thing I have learned about this is to trap my inspirations as they come. The faintest pen is sharper than the sharpest brain.
I also get inspired while studying God's word, listening to sermons, reading a book, etc. I have written a lot of poems after reading divinely inspired books.
I can remember writing SHE CAN BE SAVED after I finished reading a short story by Lizzy Yakubu.
Daachiever Inc: What or who has been your greatest source of motivation?
Temidayo: The desire to maximize this grace to write that God has blessed me with.
Daachiever Inc: Can you share your favorite poem in your latest book and why did you love it?
TAKE ME HOME TONIGHT

On the lonely street,
that street of hidden secrets I overheard it,
'take me home tonight.'

My husband traveled yester- night to Paris,
he took the fastest flight today is cold,
the day isn't bright
take me home tonight.

On that dark and lonely street,
a street where all is done in secret she whispered;
'I'm ready for you, I need not interpret it's such a lovely night
take me home tonight.

Then, I saw a man full of might,
handsome and clothed in white,
following like a moron that night he heeded
'take me home tonight.'

He looked around,
there was none in sight
the smile on his face spoke delight
he's reduced to a piece of bread,
he has no foresight
he couldn't resist
'take me home tonight.'

He lost his enviable birthright
and sold a great future,
a future so bright all for a flimsy silly delight
'cos he lacked insight when he heeded
'take me home tonight.'

Be Wise! Prov.7:6-27
JesusCares ©TemidayoRiches

Daachiever Inc: Have there been supporters on this journey? What did you do when it seems no one is around to support you? Did you give up or keep pressing?
Temidayo: Yes, I am blessed with family and friends that support me and I am grateful to God for that. Even when it seems no one is supporting me, I keep pressing because my mind is set and God is always there.
Daachiever Inc: Do you believe, writing Christian poems is a way of you fulfilling God's purpose in life?
Temidayo: Yes, because many get blessed through my writings
Daachiever Inc: What is your book, Priceless about?
Temidayo: Priceless is all about renewing our minds to see ourselves the way God sees us. It won't be difficult to stay chaste, and pure when we know who we are in God.
Daachiever Inc: Where can we read from you? Share your handles and book purchase link
Temidayo: Simply search for Priceless on Bambooks, Smashwords, Scribd, Kobobooks, and Amazon. Or directly click on this Amazon link for Priceless and Love Beyond Words. You can follow me on Twitter and IG @temidayoriches. On Facebook: Temidayo Riches Ogunleye
Daachiever Inc: Any words for those desiring to be authors and are afraid to thread this part? Or to those, who are ashamed to write for Christ? What's your advice?
Temidayo: You deserve to be heard. Write that book, don't give up.
Writing for Christ is unique. It's a calling. The best way to maximize your gift is to use it for God. Forget about the 'paparazzi' of pleasing men on social media, what you do for God will matter in the end. It pays to write to the glory of God. It may not seem cool at times but it is worth it.
---
Miss the previous episode; click this LINK
Leave the author a comment below