I loved him but God Said "NO!!!"
When God says No? Have you ever been in a situation where it seems like you have no reason to live, no hope, but suddenly you met someone: who gives you reasons to smile and you felt like you can't live without that person? Your whole life became dependent on loving him and him loving you?
Have to you ever fallen in love but God said NO?
It happened to be my first time loving a guy, and I fell so deeply that it seemed impossible to come out. I thought it was God's perfect will. He was everything that I ever wanted in a man. Literally 'perfect.' All qualities ticked with an ideal score.
He was my dream man. I loved him, and he loved me too. It became official, our relationship. Everything was going so well, but along the line, I started having dreams, revelations and a voice telling me: "come out!" "Back out!" "End it now!"
It took a while for me to recognize the voice I heard. I understood those dreams and visions; they brought me to the realization that I haven't been talking to my father (God). It dawned on me how important and critical his approval was. Was God not in support? I asked myself.
I waved off the thought, not wanting even to imagine myself living without the man I love. But I became unsettled, and worries, my companion. I knew God wasn't in support of my relationship, but I let love take the wheels.
One day, I had a terrible dream, which made me seek the face of God. I knew there was something wrong; I sensed it. God was giving me a red light. I realized I didn't ask God for leading and approval before entering into the relationship, so I prayed and asked God for a sign.
This was the first step I would have taken before falling hard in love. What was I thinking?
How could I have missed such an important step?
I can't possibly disobey my father (God), because I would surely need His blessings. He knows what's best for me. After some days of waiting on the Lord for an answer, God gave me confirmation. It was NO.
God said, "no daughter, that's not him, he's not the one I made for you, and you can't be with him." I was sad and weary. My heart ached, heaved and burdened. I was broken: I cried. I wept. I was depressed. I finally found a way and summoned the courage to tell him we needed to end the relationship. It was a painful departure.
I was sick for months. I had flashbacks of the times we spent together. The past moments kept rushing in ceaselessly across my frail mind. It was hard to move on, but God gave me comfort. I found peace in God and strength to carry on with my life. Who am I to say no to God?
RELATED: 7 Practices you need to embrace before entering into a relationship as a Christian
There are times we may think our will is God's will. But not always, His ways might be different. He knows and has the plan of our lives.
Psalm 33:11
The plans of the LORD stand firm forever, the purposes of His heart throughout all generations.
Most especially in relationships, oftentimes, we go against God's will for us, because we want to follow our heart – which can be misleading. For each step we take, we must ask God for Leading and directions. It is good to do the will of God – our Father, for us to enjoy His blessings.
To those in a relationship, did God say yes? You may be in love, but remember: God made someone who can fit in and complete you, and he knows that person. You only need to ask God, and he'll tell you. God has better plans for you
Related: Singles Q&A: When God speaks about your relationship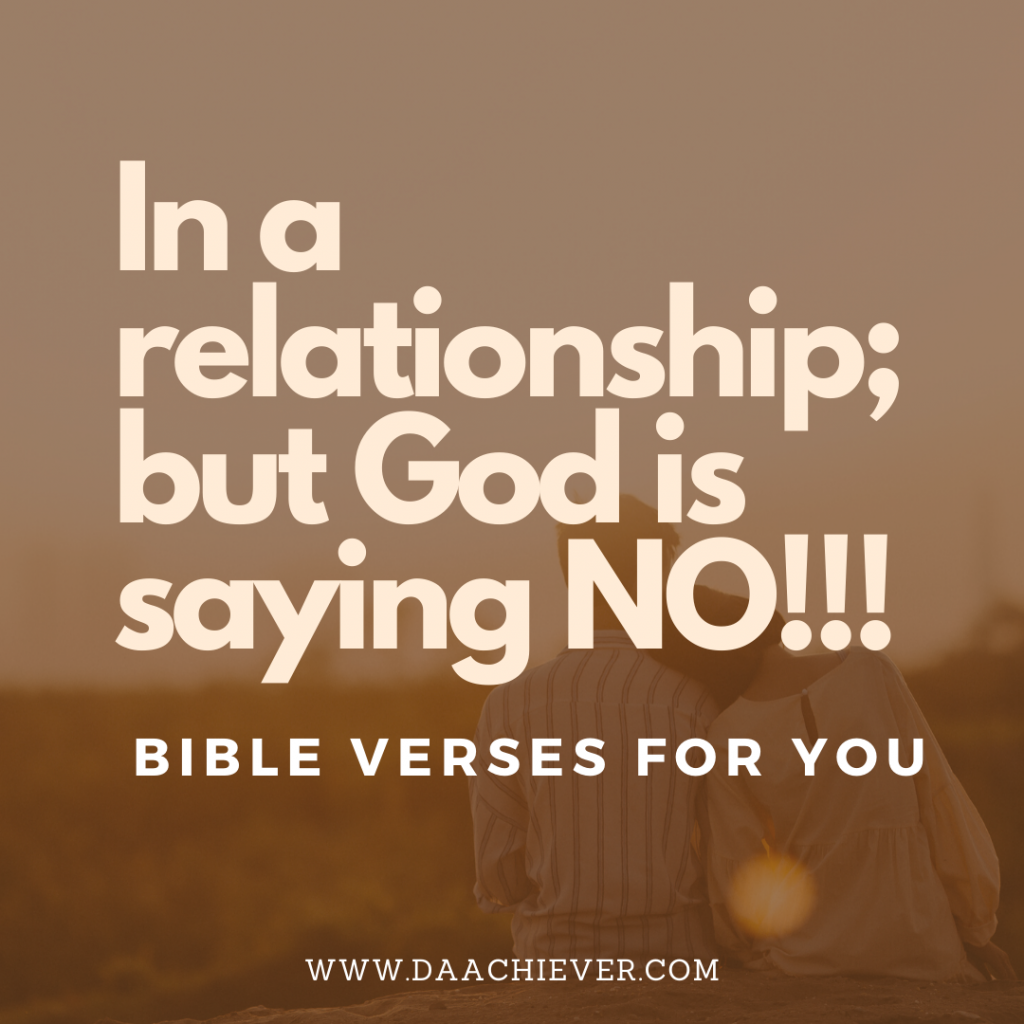 When God says No: Bible Verses to hold unto in a relationship
Jeremiah 29:11
"For I know the plans I have for you," declares the LORD, "plans to prosper you and not to harm you, plans to give you hope and a future." Trust God.
Proverbs 3:5-6
Trust in the LORD with all your heart and lean not on your own understanding; in all your ways submit to him, and he will make your paths straight.
Psalm 32:8
I will instruct you and teach you in the way you should go; I will counsel you with my eye upon you. Let him instruct you
Develop a relationship with God, not just any relationship, but an intimate one. So that when God says no, you will hear him.