Your current situation sometimes is God's way of reaching out to you.
In life, we all face crises that can make us feel overwhelmed and anxious. These crises can range from personal difficulties, such as illness or financial strain, to global events, such as natural disasters or pandemics. Crises are not what anyone will pray for, but for us to grow and mature in our relationship with Jesus Christ. They weren't made to swallow you or make you lose your faith and trust in God and His leading; situations are one of His tools for communicating and testing your dependency on Him. How else would you have boasted of your love and your trust for God if they weren't put to the test and come out excellent?
However, as Christians, we have the promise of peace and joy in the midst of any circumstance. What differentiates you from the world is the fact that, though you go through crises Christ has conquered them before your arrival; so you fight from a standpoint of victory that alone is enough to keep you calm and happy during difficult moments. In this article, we will explore how to maintain happiness and calmness during a crisis, according to the guidance of the Bible.
5 ways to maintain happiness and calmness during a crisis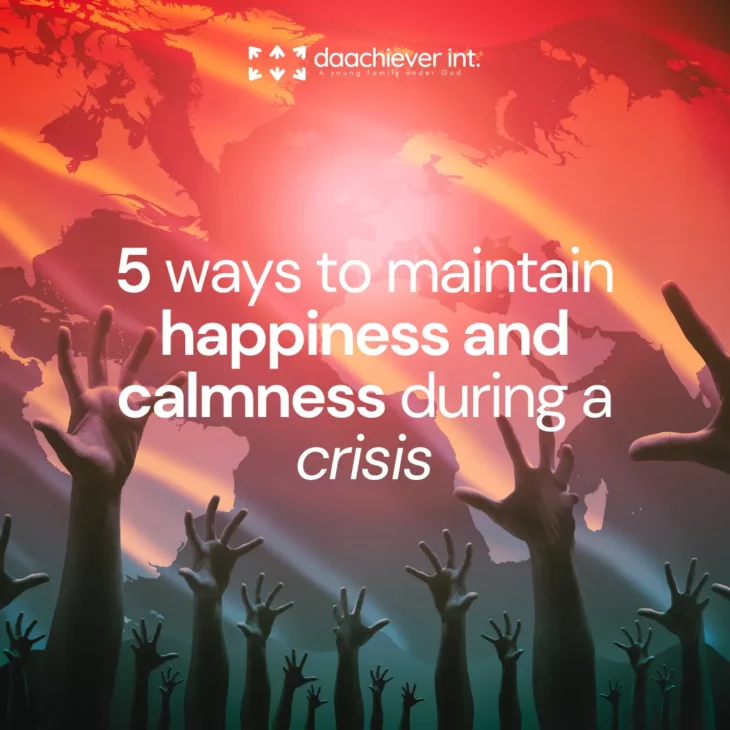 Remember that God is in Control: One of the most important things to remember during a crisis is that God is in control. No matter what happens, He is sovereign and has a plan for our lives. As Psalm 46:10 says, "Be still, and know that I am God." When we trust in God's sovereignty, we can have peace and calmness, even in the midst of chaos.
Practice Gratitude: Gratitude is a powerful tool for maintaining happiness and calmness during a crisis. Even in difficult situations, we don't seem to understand, we can always find something to be thankful for. As Philippians 4:6-7 says, "Do not be anxious about anything, but in every situation, by prayer and petition, with thanksgiving, present your requests to God. And the peace of God, which transcends all understanding, will guard your hearts and your minds in Christ Jesus."
Lean on Your Faith Community: During a crisis, it's important to lean on your faith community for support. As Hebrews 10:24-25 says, "And let us consider how we may spur one another on toward love and good deeds, not giving up meeting together, as some are in the habit of doing but encouraging one another." Whether it's through virtual meetings or socially-distanced gatherings, connecting with others can help us feel less alone and more supported.
Take Care of Yourself: Taking care of ourselves physically, mentally, and spiritually is crucial during a crisis. This can include activities such as exercise, prayer, and meditation. As 1 Corinthians 6:19-20 says, "Do you not know that your bodies are temples of the Holy Spirit, who is in you, whom you have received from God? You are not your own; you were bought at a price. Therefore, honor God with your bodies."
Trust in God's Promises: Finally, it's important to trust in God's promises during a crisis. As Romans 8:28 says, "And we know that in all things God works for the good of those who love him, who have been called according to his purpose." Even when we can't see the good in a situation, we can trust that God is working for our ultimate good.
10 Bible Verses On God's Help During Crises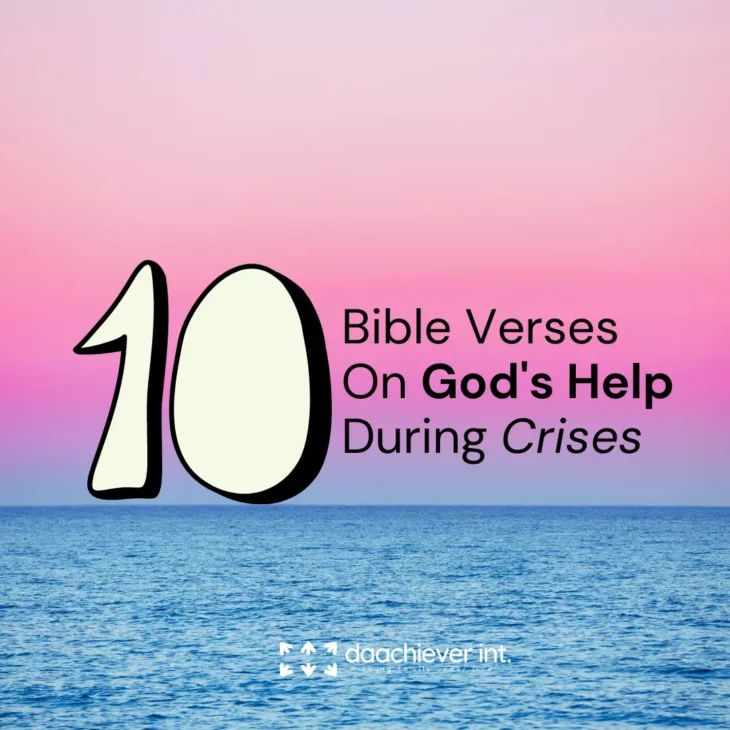 Deuteronomy 31:8-9: The Lord himself goes before you and will be with you; He will never leave you nor forsake you. Do not be afraid; do not be discouraged.
Isaiah 41:10: "Fear not, for I am with you; be not dismayed, for I am your God; I will strengthen you, I will help you, I will uphold you with my righteous right hand."
Colossians 1:11: May you be strengthened with all power according to His glorious might, for all endurance with patience and joy.
John 16:24: Until now you have asked nothing in my name. Ask, and you will receive, that your joy may be full.
1 Peter 5:7: Casting all your anxieties on Him because He cares for you.
Psalm 31:24: Be strong, and let your heart take courage, all you who wait for the Lord!
Isaiah 40:31: But they who wait for the Lord shall renew their strength; they shall mount up with wings like eagles; they shall run and not be weary; they shall walk and not faint.
2 Timothy 1:7: For God did not give us a spirit of power, of love, and of self-discipline.
Psalm 33:22: Let Your unfailing love be with us Lord, even as we put our hope in You.
Jeremiah 29:11: "For I know the plans I have for you declares the Lord, plans to prosper you and not to harm you, plans to give you hope and a future.
Maintaining happiness and calmness during a crisis is possible with the guidance of the Bible and the help of the holy spirit. By remembering that God is in control, practicing gratitude, leaning on our faith community, taking care of ourselves, and trusting in God's promises, we can find peace and joy in the midst of any circumstance. As Isaiah 26:3 says, "You will keep in perfect peace those whose minds are steadfast, because they trust in you."
This article was written by Oluwatobi Samson and Chinpilang Bigwan