The Bible is a spirit-filled book encompassing numerous insightful and supernatural stories, wise sayings, parables, etc. It contains a lot of interesting historical stories with lessons to gain from them. The story of Mephibosheth isn't often recalled when biblical stories are to be discussed, for too many people don't know who Mephibosheth was in the Bible for his name was only mentioned a few times in the Bible.
Unlike some other Biblical characters whose names were mentioned numerous times in the Bible as a result of playing an active role in the events, that took place as recorded in the Bible. Mephibosheth was mentioned a few countable times in the Bible. These types of Biblical characters could be directly related to the statement Jesus made in Mark 12:10:
"The stone rejected by the builders has now become the cornerstone" (New Living Translation- NLT)
But, it is pertinent to note that "The ways of God are not the ways of men". Despite the brief appearance of this admirable figure, there are immeasurable and important lessons to learn from his story.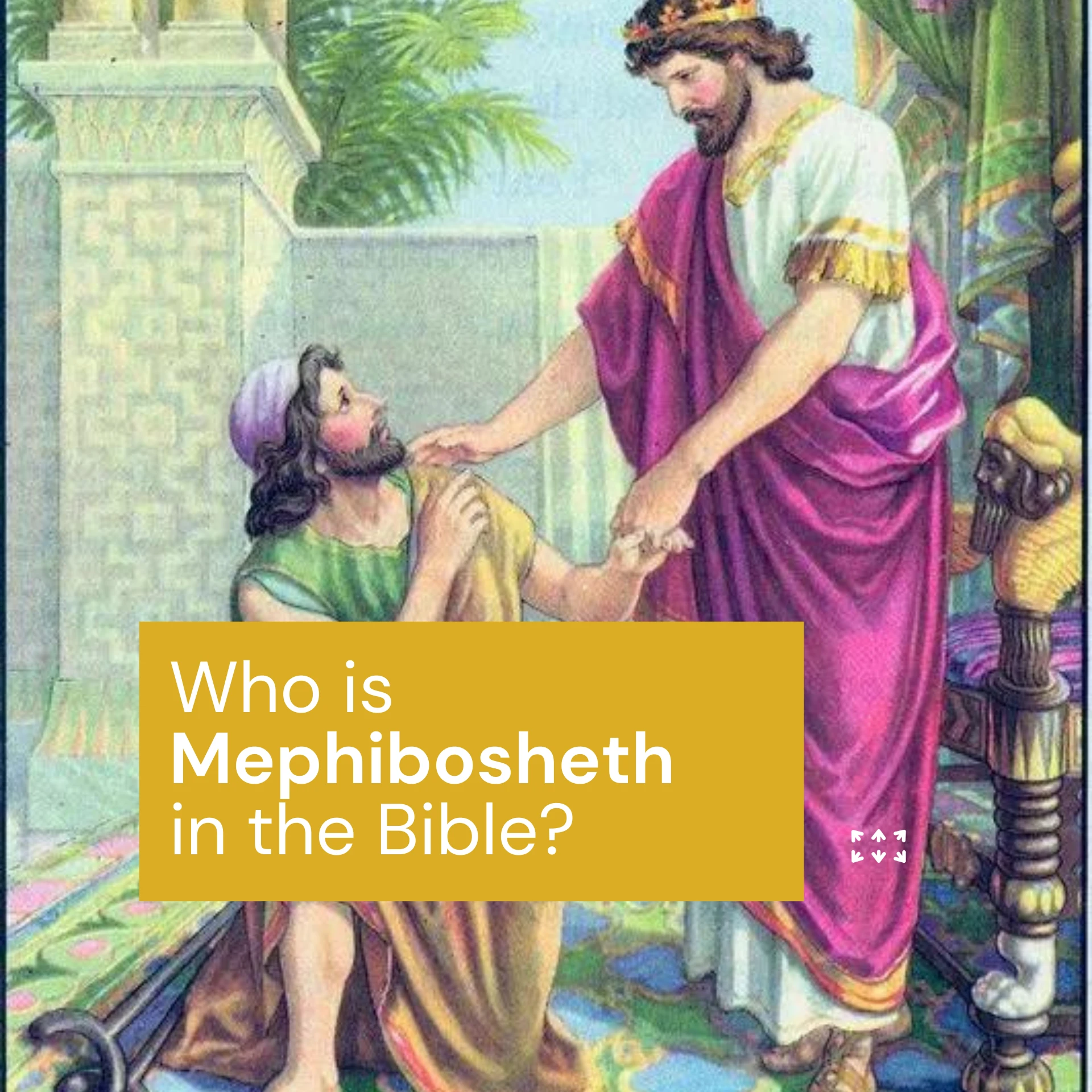 Who is Mephibosheth in the Bible?
Mephibosheth, the son of Jonathan and also the grandson of King Saul was five years old when he became crippled. His name Mephibosheth means "dispeller of shame" in the Hebrew translation.
Are there two Mephibosheth in the Bible?
Yes,
The other is an actual son of Saul by a concubine who was killed by the Gibeonites as an act of defiance against the late Saul (2 Samuel 21:8-10).
How did Mephibosheth become lame?
After hearing the news of the death of Saul and Jonathan, who died at the Battle of Mount Gilboa, Mephibosheth's nanny who was fleeing from being killed (the Bible didn't say what the nanny was running away from, but she could have panicked) the child she held in her hand fell, and that was how Mephibosheth became lame. (2 Samuel 4:4),
It is interesting to note here how human mistakes that occur when we barely have control over them could mar or make an individual. Due to this mistake, Mephibosheth carried this scar all through his lifetime.
However, God had bigger plans for him! These plans had also been laid down right before he was born. A promise was made between his father, Jonathan, and David, who was to become a King in the future (1 Samuel 20:42).
The relationship between King David and Mephibosheth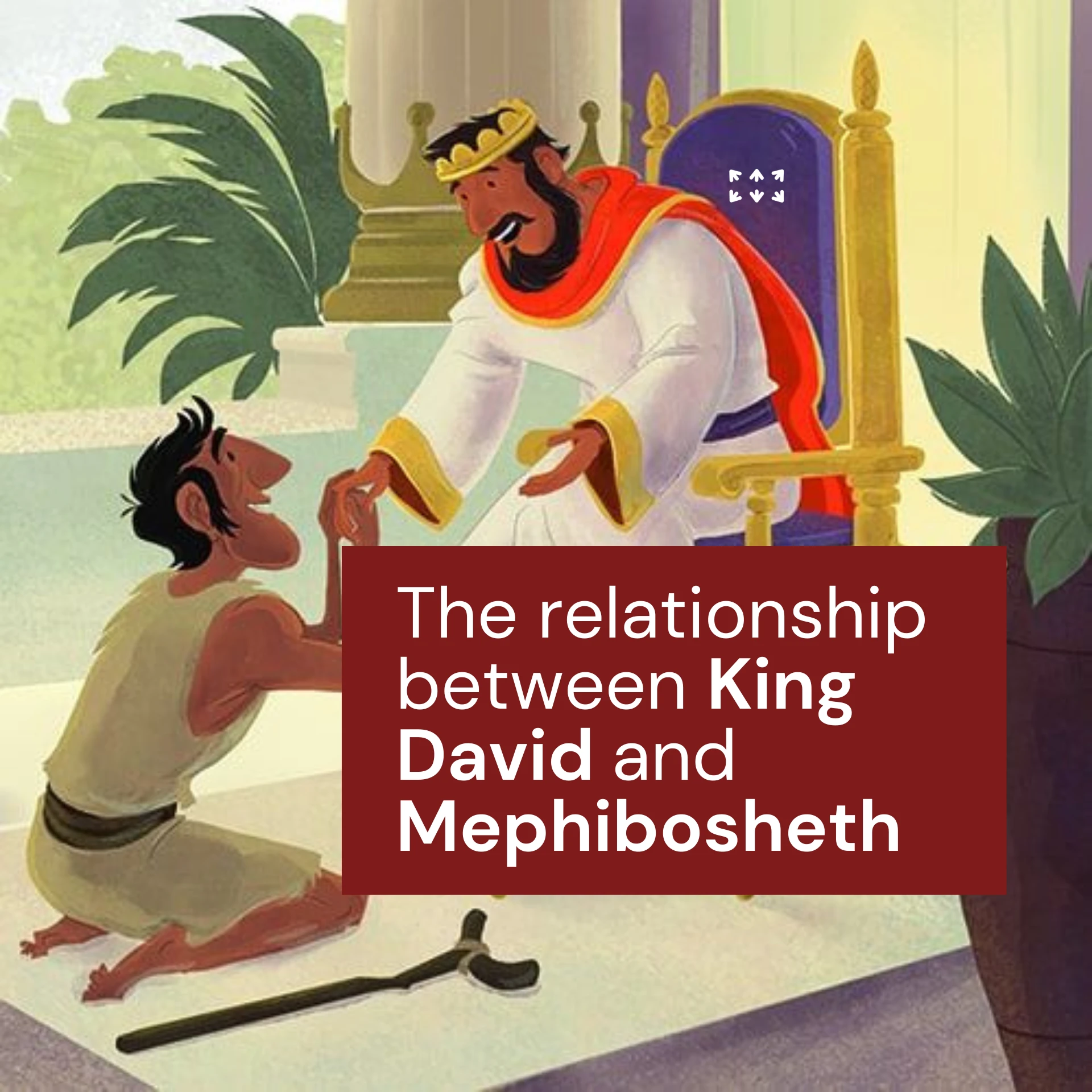 This relationship helped build a future for Mephibosheth later in life. Mephibosheth was elevated to a higher position as he was granted access to King Saul's lands and an opportunity to dine with the King every day. Getting called to the presence of a King could evoke fear and uncertainty, one could imagine what was running through Mephibosheth's mind when he was told King David requested for his presence.
But little did Mephibosheth know that the call was actually a good one. Remember, that the relationship between Saul and David wasn't a pleasant one, perhaps Mephibosheth knew the history; but despite that Jonathan was a good friend and father to the lad. His legacy left a posterity for his son, Mephibosheth even after his death. So amazing.
Mephibosheth's story as a metaphor for redemption
The story of Mephibosheth shows to us, that in the presence of the KINGS OF KINGS, everyone is qualified to come. Jesus already paid the price, and accepting his sacrifice makes us of his lineage, only those who don't have this revelation will be filled with fear. Let us come boldly to the throne of grace. God is merciful, and we can dine at His table, all the days of our lives.
What does the story of Mephibosheth teach us?
After long years of turmoil in Jerusalem, God opened the book of remembrance on Mephibosheth and made David remember him for good (2 Samuel 9: 1). Within the twinkling of an eye, Mephibosheth, who could have been punished for being related to the previous King (because Saul sought to kill David) was elevated in his position, reclaimed his father's properties and got to wine and dine with the King every day.
As Christians, there are numerous lessons we could learn from this story.
Number One: A Man after God's own heart
David was described as a man after God's own heart in the Bible. This is a great title that is similar to Abraham's title The Father of Faith. This title came into existence because of the manner of grace David carried and how he was able to maneuver situations as well as gain favor in the sight of men and God.
However, we need to note that despite the numerous lessons we would be learning from Mephibosheth's story, we can see one of the reasons David was given this title in the scripture.
David made a promise to Jonathan. They were both sworn brothers and loved each other greatly. But as we know, we are human beings, love can fade away or we could forget as time goes by.
But, David, a man after God's own heart, kept to his longtime promise despite all odds. He was faithful to his words notwithstanding the absence of Jonathan who might have held him accountable for his words. The fear of God and His Spirit that lived inside of him reminded him and made him keep to his promise.
Remember, God is a man of His words, so, we also should keep to our promises
As Christians, we are expected to keep to our words and promises to God and men. The truth is, you could never tell the extent of the expectation of the other person regarding your promises nor would you be able to tell the number of destinies that are connected to it.
Rather than make empty promises that you are uncertain of keeping to, you could desist from making promises in the first place, and carefully weigh the outcome of your words.
Our aim should always be to become a man after God's own heart and such a man will always keep to his words.
PRAYER: May God help us to develop the attributes of being true Christians that can keep to their words and become men after God's own heart.
Number Two: The Power of Remembrance
The important power of remembrance cannot be underemphasized in the story. The fact that God made David remember Mephibosheth for good, created a turnaround situation in his life ( 2 Samuel 9:1-2).
When we compare Mephibosheth's story to Joseph's we would be able to see the importance of speedy remembrance. It is not enough for our helpers and people who wield the power to turn our life around to remember us but to remember speedily.
Just the same way Mephibosheth's life change was dependent on David's remembrance and memory, the same can be said about the chief's cupbearer in Genesis 40. He had the power to turn Joseph's life around but something happened—he forgot!
This led to an extension in the time Joseph spent in prison. However, he finally remembered in Genesis 41:9.
"Then the King's cup-bearer spoke up. 'Today I have been reminded of my failure…'" (NLT)
The most important word to note here is 'reminded'.
It is possible that God would open the book of remembrance of your life in someone's memory and lead them to remember you for good, those times when you need a favor from people who might seem to have forgotten you, sometimes, it is not about sending reminders alone.
Making use of your priesthood nature and commissioning things into place including remembrance could go a long way in turning that situation and that destiny helper's heart around.
This is one of the mysteries that every Christian should always try to apply in their endeavors. The Lord Almighty is powerful enough to intercede and place remembrance into the hearts and minds of your helper.
PRAYER: Dear Lord, use your power of remembrance in my favor and connect me to the helpers of my purpose with speed.
Number Three: God's Favor From Men to Men
"All blessings come from God through men to men."

Apostle Joshua Selman Nimmak
The shower of blessings that rained upon Mephibosheth's life was a result of God's blessings which translated from the hands of God to men and then, to him.
Favor is a commonly misinterpreted word when it comes to its meaning. A lot of people call it unmerited favor, but looking into it critically, it cannot be said to be entirely unmerited.
Can we say that in the case of Mephibosheth, his blessings were unmerited?
I do not think so but he received favor from God through men (David). It is also important that we understand the fact that our blessings could be released from heaven but not granted to us by men.
The aforementioned could happen when men do not favor you. Hence, as you pray for favor in the sight of God also pray for it in the sight of men because all blessings would surely get into your hands from God through men.
Favor in the life of Mephibosheth also showed the ability of God to turn the odds in one's favor. In 2 Samuel 9:11-12, we can see that Mephibosheth, despite his physical challenges, Ziba, his 15 sons and 20 servants as well as his whole household became Mephibosheth's servants!
PRAYER: Our Father in heaven, I pray that you grant me this grace called favor, favor in the sight of God, and favor in the sight of men.
Number Four: Our Help comes from God
As much as we might find favor, leave the pit and rise, climb up the social ladder, and gain honor, there are times we could face challenges even when we have gotten to the top. Life has its ups and downs. These challenges are meant to help us draw closer to God and always cleave to him as our source.
Looking further into our Bible character, Mephibosheth, in 2 Samuel 16: 1-6, we can see that there was trouble in King David's kingdom and he was almost stripped of his throne by his son, Absalom.
King David fled and asked after Mephibosheth whom we later found out Ziba lied against in 2 Samuel 19:24-30.
Unfortunately, our closest allies could turn to our mortal enemies who would deter the progress of our lives. The same could be said about Ziba, he presented himself as a saint to King David, deterring Mephibosheth from fleeing with him to show his allegiance and ending up with half of his (Mephibosheth's inheritance)!
Despite all these, the state of Mephibosheth's heart is shown. He wasn't covetous about material things and cared more about his helper, King David's safety.
In addition, King David was able to show him mercy and benevolence by believing him and granting him half of his inheritance. Mephibosheth continued to receive all-around mercy even during the times we least expected.
PRAYER: God, help me and help me to receive help and mercy from men.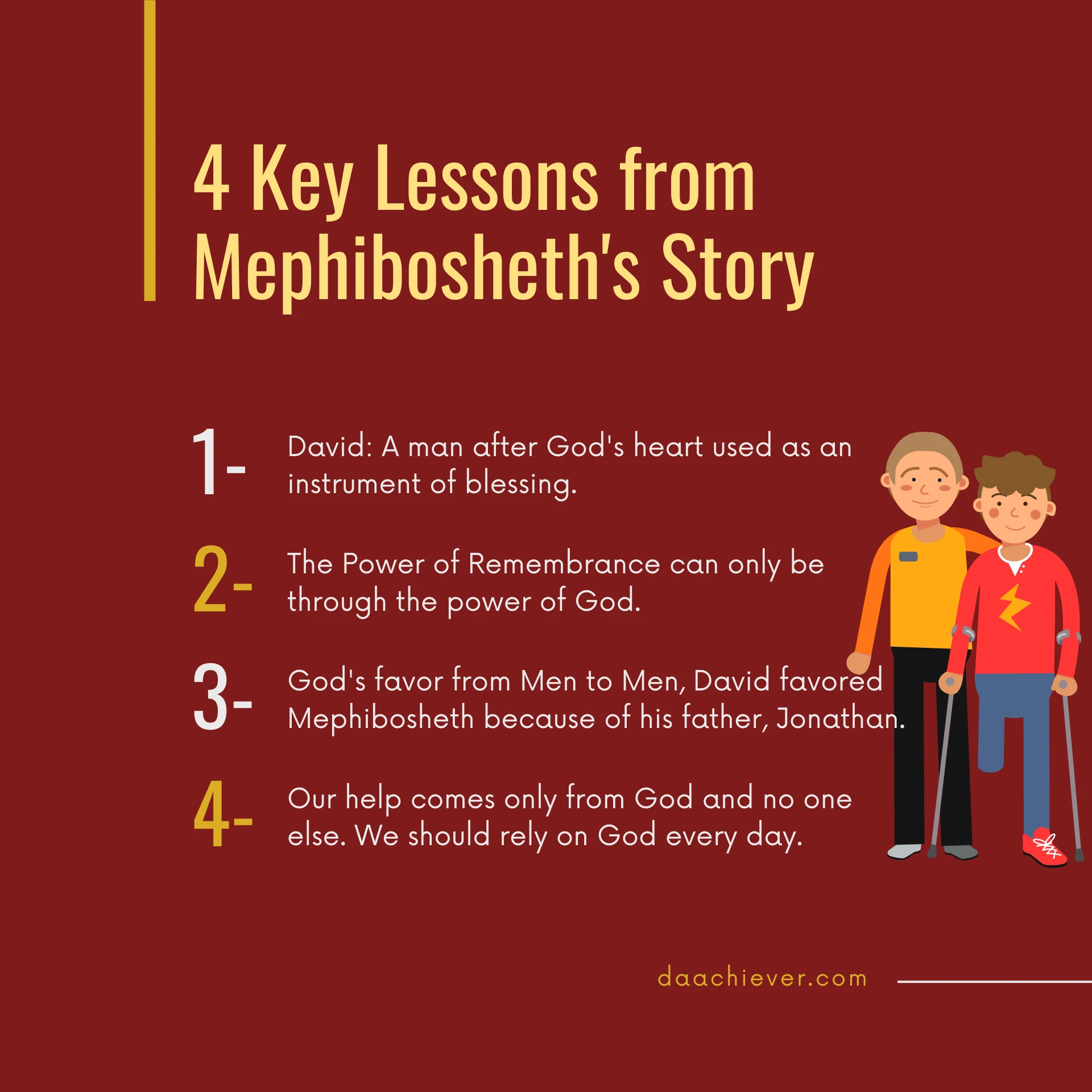 What is the spiritual meaning of Mephibosheth?
There are a lot of lessons that could be learned from Mephibosheth's story, but the most pertinent of these lessons is that God can make use of us notwithstanding our limitations. It is within His power to bless us and provide for us.
He looks beyond us always and makes a way. Just as he had laid out the roadmap of Mephibosheth's life and destiny, he has yours and he would surely look beyond those limitations to bless you.
Remember, He is a high priest with the feelings of our infirmities.
Hebrews 4:10 says"This High Priest of ours understands our weaknesses, for he faced all of the same temptations we do, yet he did not sin"